The goals of the ERE web page audit are to identify and make remedial recommendations for:
Weaknesses of authentication which may allow unauthorized access, changes or defacement.
Weaknesses within data capture fields and client authentication processes which make the page susceptible to hacking and to unauthorized access, particularly from the Internet.
Vulnerabilities within the authenticated region, which may pose threats to the backend applications and database(s).
Weaknesses identified by web security testing of interfaces between the client facing application and the back-end applications and databases.
Improperly secured administrative access to the web site including both the web software and the underlying hardware platform.
Application security weaknesses identified by web application testing.
Security lapses within the hardware platform.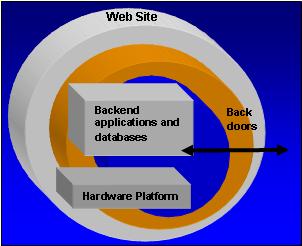 Web Security Testing Steps
ERE Web Security Testing methodology is composed of web vulnerability scanning, web application testing, drill-down steps for auditing application security, and auditing the security of the architecture and platform(s) on which the web applications reside.
Our web application audits are a compilation of other components of ERE technology audits. Please refer to the other audit descriptions including: