Privacy Compliance Auditors

ERE CISSP certified privacy auditors deliver clearly written, easily understood reports which identify compliance violations and precise recommendations of how to fix them.
Our Differentiators
Provide by the book internet privacy compliance audit, for all major standards, including RCMP/ CSE TRA, Harmonized TRA, HIPAA, PIPEDA, GLB, etc.
Minimize cost and confusion by aligning scope precisely with the client's business needs. We provide up front a privacy audit template and privacy audit checklist.
Clear, precise identification of: evidence of each privacy compliance violation and the section number of the privacy standard it violates.
Our privacy compliance audits are performed by certified CISSP information security and privacy audit experts.
Each audit report has a clear, brief executive summary, which highlights the major violations and their business / privacy risks.
Each PIA is prefaced with an executive summary that describes the key risks in terms of compliance violations, our methodology, and leads directly into the PIA pro forma calculation template.
Our CISSP certified information security and privacy auditors incorporate interviews as part of our standardized privacy compliance audit process. We make sure we understand which privacy control points are important to clients' internal and external auditors. Then we ensure we clearly report on the level of adherence to these control points. We correlate both security and privacy violations to all existing standards and to any newly published standards, such as:
Internet Privacy Audits – Identify compliance to any of the privacy standards / regulations below correlated with a technical security assessment of the underlying host network.
PIPEDA audits – privacy compliance audit checklist of 10 critical elements, policy, standard operating procedures, technology.
RCMP / CSE TRA or harmonized TRA or privacy harmonized TRA – checklist of 10 critical elements, policy, standard operating procedures, technology. .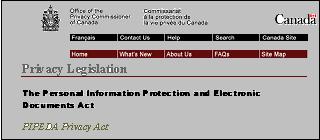 Let us assist you to budget for your privacy compliance audit. May we send you a privacy audit checklist and privacy audit template template? Contact us and we'll help you scope the right privacy compliance audit for you.

Contact Us
905 764 3246