Firewall and VPN Audit

ERE perform integrated audits of firewall and VPN technology, focusing on four subject areas to test: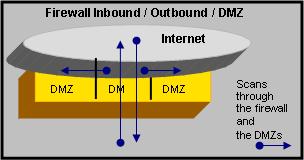 Rules, Objects, and IP Addresses
Unique rule identification.
Rule name identification.
Assessment of rule compliance with security policy and with access policy for a VPN.
Identify objects, both observed in event logs and not observed in event logs.
Identify rules which are used and which are not used.
Identify legacy rules which can not be used.
Identify sanctioned source and destination IP addresses.
Correlation of rules vs. objects.
Identifying unused or legacy rules and objects.
Scans from within DMZ's to other DMZs and to inside the corporate network.
Scans from outside the corporate network to inside the DMZs.
Testing to determine if rules perform their intended roles.
Testing to determine if rules exist to perform the intentions of policy.
Document all rules and their use.
Create a dictionary of rules and objects.
Create a change management process for rules.
Provide change management authorization document(s).
Contact Us
905 764 3246